Browser Admin Insider: Apps from the past? Fear not with Chrome Legacy Browser Support
As a customer engineer, I get to work with customers everyday—whether it's helping them deploy Chrome as their default browser or explaining the latest tools and tips to help IT admins better manage and secure work. I'm willing to bet that others have similar questions. This post marks the first in a series where I'll share pointers to help admins master Chrome Browser.
One thing that customers often ask me about is how they can support legacy applications in Chrome Browser. Specifically, "how can my users access older websites or apps that need a legacy browser?" 
Luckily there is a capability in Chrome Browser that makes this more manageable and offers an improved user experience: Legacy Browser Support.
What is Legacy Browser Support?
Legacy Browser Support is a feature in Chrome that can help you automatically redirect designated legacy sites and applications that need to be accessed via legacy browsers. With this, an administrator can configure a sitelist, or a list of URLs that require a legacy browser to function correctly, and then add that list into Windows Group Policy Objects (GPO). When a user types in a URL that matches one listed on your designated sitelist, the legacy browser will open automatically, and a new tab that's opened in the legacy browser will redirect right back to Chrome. 
This makes it easy for employees to access legacy sites with no interruptions—when they're ready to do normal browsing, they'll automatically use a secure, modern browser as the default. Here's what it looks like in action: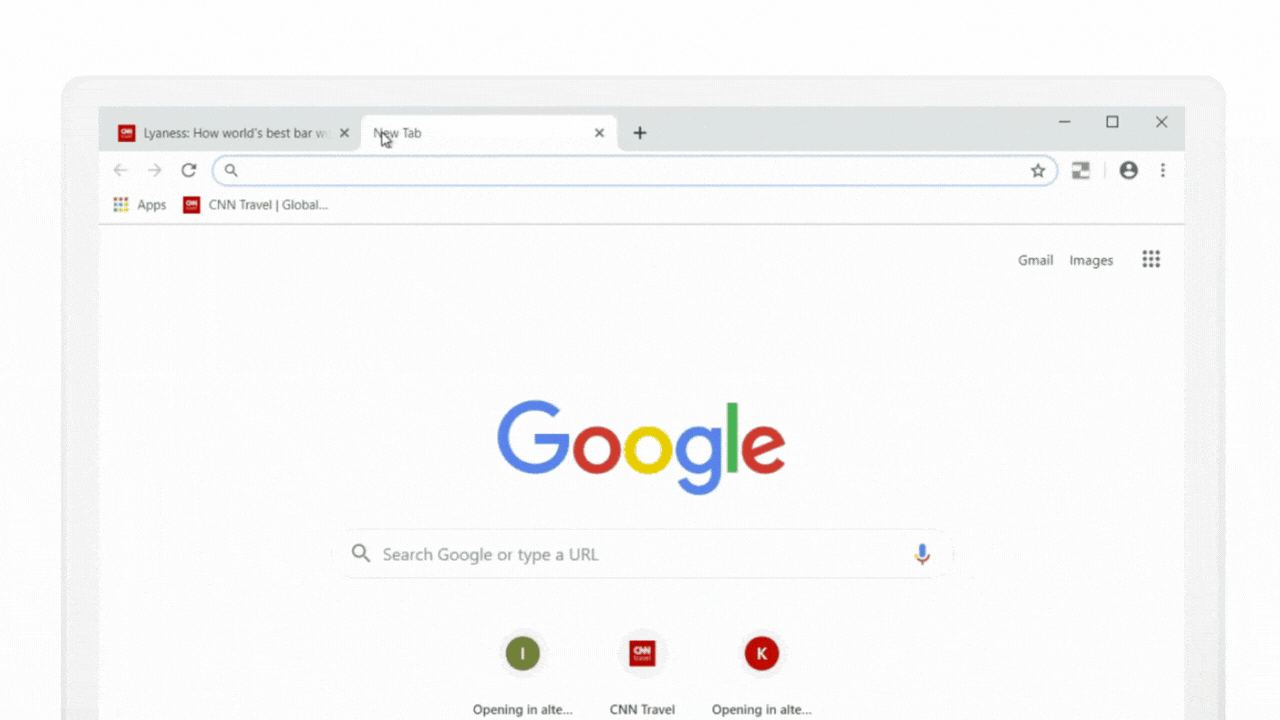 Read here to learn more about how you can configure the various LBS policies, it's even possible to configure how long to wait before launching an alternative browser.  
How to use Legacy Browser Support
If you want to take advantage of this feature in Chrome Browser, here's how to get started.
First, download the Chrome Enterprise bundle. This includes all of the installers, GPO templates that you need to manage Chrome Browser (beyond just Legacy Browser Support). Also, be sure to check out Chrome Browser Cloud Management, where you can manage hundreds of browser policies centrally across different platforms and OS versions.
Next, reference this step-by-step guide for deploying and enabling Legacy Browser Support. Note: If you use Version 73 or earlier, you need to use the Legacy Browser Support extension (included in the Enterprise Bundle). This can be force installed via GPO by the ExtensionInstallForcelist Policy. If you use Version 74, you do not need a separate extension. Only GPOs and the MSI are needed to configure Legacy Browser Support. Also, keep in mind that Enhanced Protected Mode in Windows needs to be turned off on target machines.
With Legacy Browser Support, you can help employees avoid time working in less secure,  legacy browsers and more time staying productive. Just this one change can have a big impact on productivity—check out this post for more inspiration. And stay tuned for more Admin Essentials coming soon.