Making the modern OS accessible for every enterprise
Automatic updates that don't disrupt work. Boot-up in seconds so you can get up and running fast. Security by default, with multiple layers of defenses so you're protected against threats. AI enhancements that help you work fast, and smart. And a cloud-native experience today's workforce increasingly expects. The modern OS is not a vision, it's already a reality for businesses today with Chrome OS.
But bringing the modern OS to businesses requires more than reimagined technology. It means providing them with the devices and ecosystem that makes the modern OS easy to adopt. Today, we're announcing a number of enhancements across our Chrome Enterprise ecosystem with an aim to bring the modern, cloud-first Chrome OS to more businesses—on trusted hardware they already know and love. These updates include the first Chromebook Enterprise devices, with an improved Admin console, and new developer-focused features. Together, these updates make the modern OS more accessible to every business.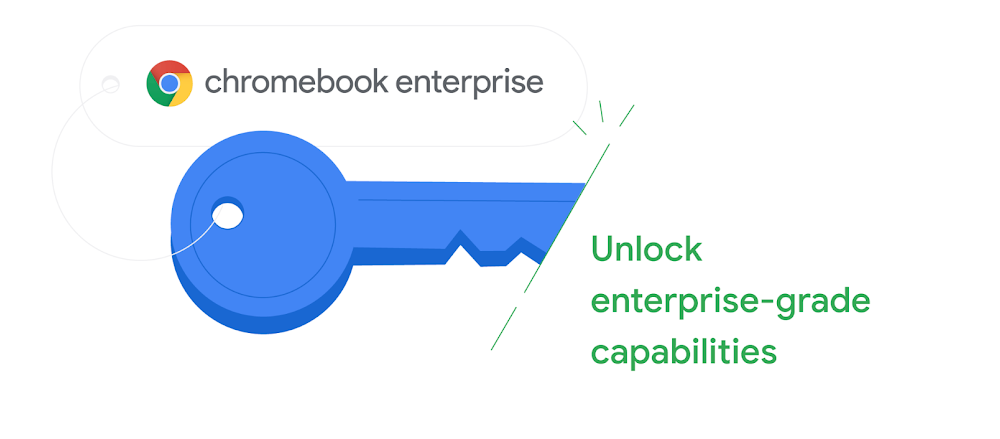 Introducing the first Chromebook Enterprise devices: Everything businesses need right out of the box
We launched the Chrome Enterprise capabilities in 2017 to put critical enterprise features like advanced security protections and fleet management in the hands of businesses deploying Chromebooks. Today, we're making it even simpler by introducing the first  Chromebook Enterprise. Chromebook Enterprise devices come with everything businesses need right out of the box: trusted hardware and Chrome Enterprise capabilities available and ready to go—no need for a separate license.
For businesses already using a Chromebook fleet that don't already have Chrome Enterprise, they can get the same enterprise capabilities through the Chrome Enterprise Upgrade. Learn more here. We'll also be sharing more from our OEMs on upcoming Chromebook Enterprise devices in the coming months.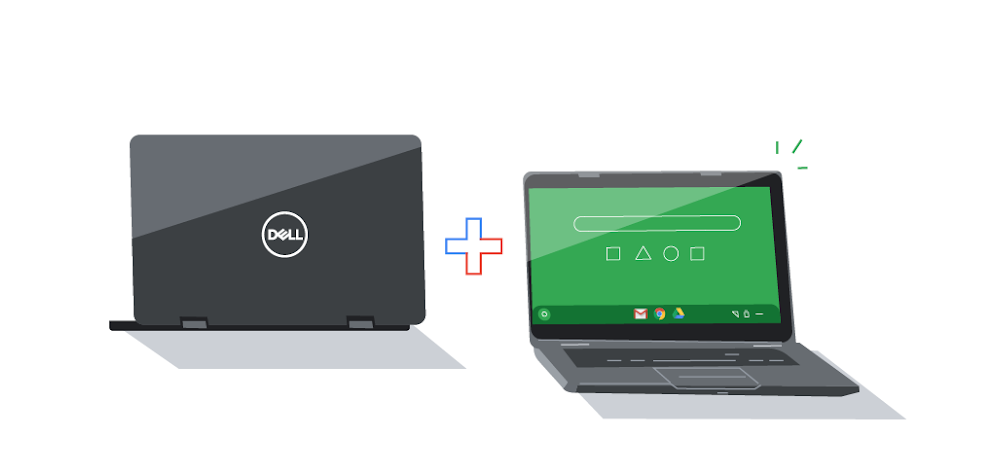 Dell Latitude Chromebook Enterprise: Combining the performance of Dell with the speed of Chromebooks
Today, we're thrilled to announce the very first Chromebook Enterprise devices: Dell Latitude 5400 and Dell Latitude 5300 2-in-1 Chromebook Enterprise. With Dell's trusted hardware, Chrome's modern OS, and unified endpoint management courtesy of Dell Technologies' Unified Workspace, the Dell Latitude Chromebook Enterprise devices offer a holistic solution that simplifies IT and powers the workforce.
"The core of our business is to help customers digitally transform and our enterprise customers have asked for more choice in how they do that" says Rahul Tikoo, Vice President,  Commercial Client Product Group at Dell Technologies. "Partnering with Google to launch the first Dell Latitude Chromebook Enterprise offers customers that choice, plus the speed, security and ease of use that enterprises need.

Here's what the first Dell Latitude Chromebook Enterprise devices offer: 
Security by design: Combining  Chrome Enterprise's multi-layered security with the Dell Latitude, end users are protected against threats, and IT admins can easily provision, monitor and lock down all devices while ensuring regular and controlled OS updates.
Global availability and support: Dell Latitude Chromebook Enterprise devices are available in 50 countries, 24/7 year-round Dell ProSupport1 alongside Chrome Enterprise support. 
IT-trusted hardware: With their scalable design, high performance, and powerful battery life, Dell Latitude devices are widely trusted by IT. Two form factors, the 14-inch Latitude 5400 and the 13-inch Latitude 5300 2-in-1, can be configured with up to 8th Gen Intel ® Core™ i5 and i7 processors. . These Chromebooks are the first to offer up to 32GB2 and 1TB3 PCI-E NVMe SSD storage. They also offer LTE options and USB Type-C docking. Learn more.
Cloud-native apps: Dell Technologies will also be a reseller of G Suite, and Drive Enterprise—which includes Google Docs, Sheets, and Slides—so teams can securely store, share, and access files of any kind, either offline or online. Cloud-first tools can make it easy for teams to work together and get things done fast. 
All of this is backed by Dell Technologies Unified Workspace, the industry's most comprehensive solution to deploy, secure, manage and support virtually all devices from the cloud.
"The Dell Latitude Chromebook Enterprise is a first-of-a-kind solution that is customizable, easy to manage remotely for my IT team and has a minimal learning curve for end users. It's the complete device package, with Dell support, LTE and peripherals. It's the best solution for our growing industry-leading workforce." —Joe Romeo, Lead Systems Administrator, Sunrun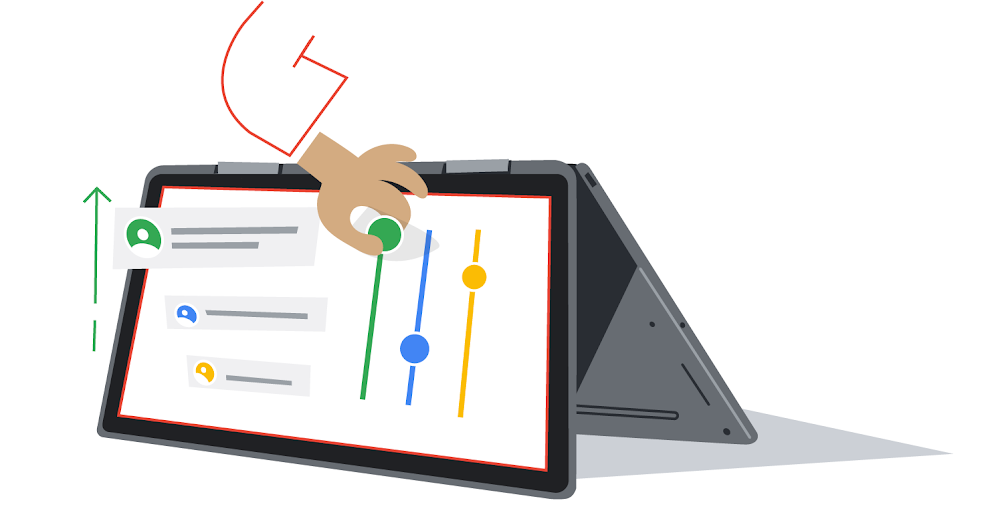 Making Chromebook management easier than ever with updates to the Google Admin console
Chromebook Enterprise devices, as well as Chromebooks with the Chrome Enterprise Upgrade, offer a variety of important enterprise capabilities, like advanced security protections, flexible access, and simplified management and orchestration. One of those capabilities is access to the Google Admin console for Chrome OS, which helps businesses manage Chromebook deployments from one centralized location. 
To help make Chromebook adoption and deployment even easier for businesses, we've massively revamped the Admin console. This means updated material design, search on every page, and redesigned workflows, resulting in up to 10x faster load times4 than the previous version. These improvements mean IT can spend less time in the console, and more time on other business-critical tasks.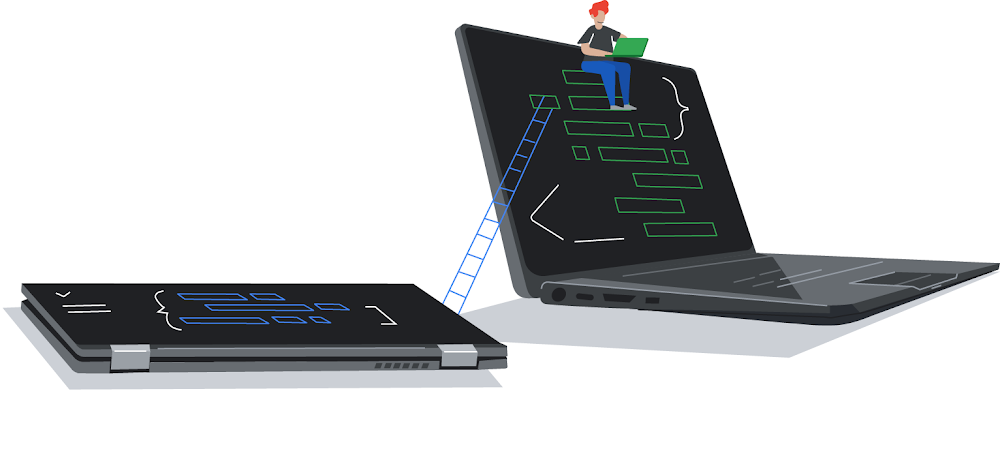 Bringing Chromebooks to more developers
As more organizations embrace the cloud, they want tools that help their developers work securely and build applications for an increasingly cloud-first world. In 2018, Google announced a project to bring Linux and its ecosystem of development applications, including Android Studio and other integrated development environments (IDEs), to Chromebooks. Now, organizations can enable managed Linux environments on Chromebooks, in beta, with tools to determine who has access, VPN support for internal files, and containers for maximum protection. This solution offers enterprises an approach to development that is genuinely cloud-first.
Time to switch
Today's updates do more than deliver on the promise of the modern OS, they make it possible for enterprises everywhere to adopt it and truly transform the way they work. We'll also be sharing more from our OEMs on upcoming Chromebook Enterprise devices in the coming months. We're thrilled by the amazing growth we've seen since launching Chrome Enterprise in 2017. We'll continue to listen deeply to the needs of our customers and partners as we make the modern OS even better and more accessible. To learn more about Chrome Enterprise and how you can set IT freewith its benefits, visit our website. 
---
1. Availability and terms of Dell EMC Services vary by region and by product. For more information, contact your Dell EMC sales representative. 
2. System memory may be used to support graphics, depending on system memory size and other factors.
3. Hard Drive capacity varies with preloaded material and will be less.
4. Source: Internal tests completed by Google engineering 
Footnote: Comparison of load times of specific pages from the previous Admin console vs. the new Admin console using standardized test data.