New homepage and improved collaboration features for AI Hub
The AI ecosystem has been expanding at a rapid pace, and shows no signs of slowing down.  Customers told us about the challenges they faced managing their growing number of ML assets and preventing silos and redundant work and it  inspired us to develop AI Hub to help foster collaboration and reuse of assets like notebooks, trained models, and ML pipelines.
In April, we announced the open beta of AI Hub, and we have been constantly working to improve it. Today, we're happy to announce that we're releasing a number of new and exciting features to make collaboration for data science and ML teams even easier, and to enable GCP users to build on each other's work.
"At Descartes Labs, we build models to predict how changes on the earth impact our customers, their supply chains, transportation, infrastructure and even the raw commodities feeding their businesses. With such a wide range of use cases and diverse customers, we have built a library of ML models, modeling pipelines and even tutorial notebooks for our team. We leverage AI Hub to make these modeling resources easily discoverable across various groups, business verticals and modeling techniques. Granular permissions allow us to lock down AI Hub assets to a small team or share publicly, as in the case of our geospatial ML platform tutorials. AI Hub provides discovery and security to meet the needs of a growing ML-focused organization." – Tim Kelton, Co-Founder and Head of SRE, Security, and Cloud Operations at Descartes Labs
New AI Hub Homepage
The new AI Hub Homepage gives logged in users immediate access to the most popular and most recently shared private assets. It also features cutting-edge content to help you learn, build, and run ML even more quickly.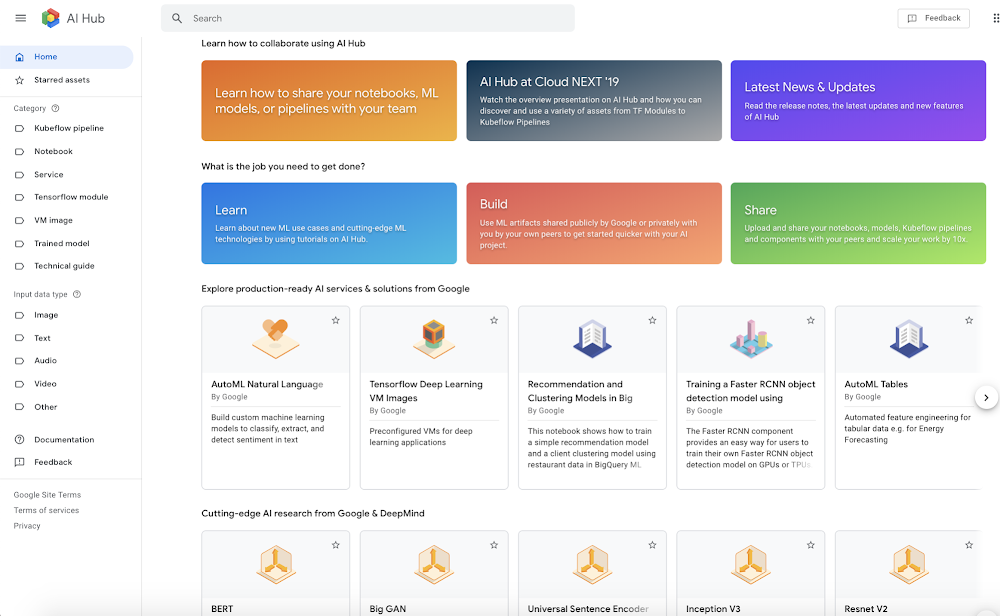 Advanced sharing, permissions, and collaboration capabilities
This feature is no doubt near and dear to G Suite user's hearts: AI Hub now lets you share notebooks, trained ML models, and Kubeflow pipelines in a flexible way with individual colleagues, entire groups, and even your entire company so they can learn from and build on your work.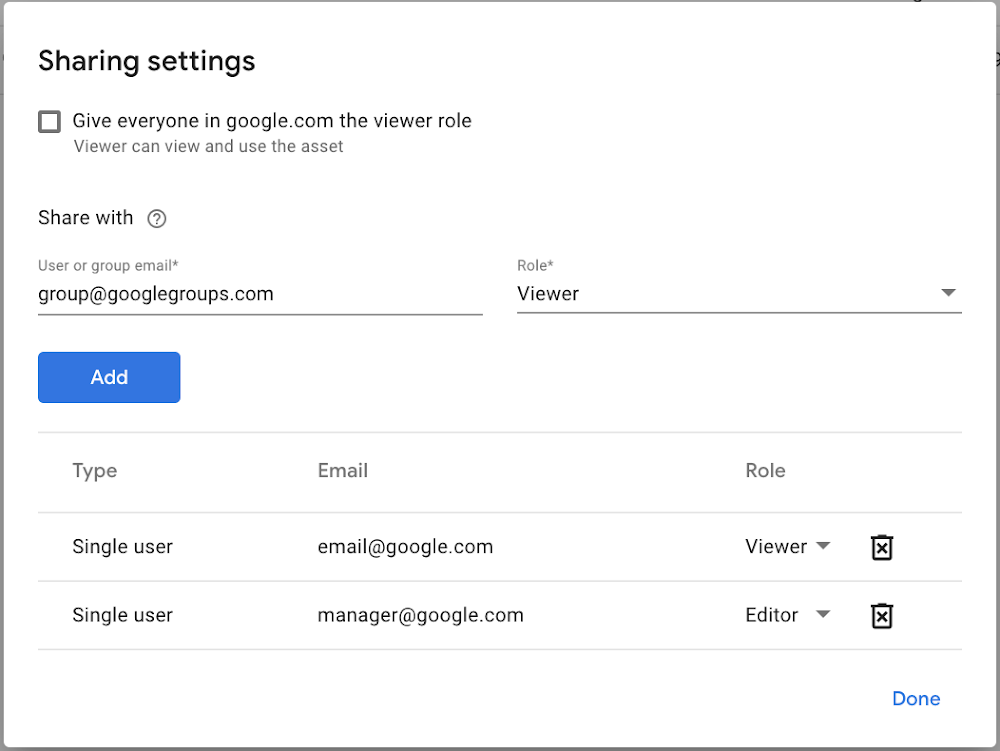 All it takes is simply adding individual collaborators or groups by their email addresses, and giving them editor or viewer permissions. "Viewers" will still be able to fork the asset you share by downloading or opening a copy, but they won't be able to edit or change the version shared on AI Hub.
You can open this new sharing dialog by clicking on the "Share" button on the asset details page (below, first image) or the sharing icon next to your asset on the My Assets page (below, second image).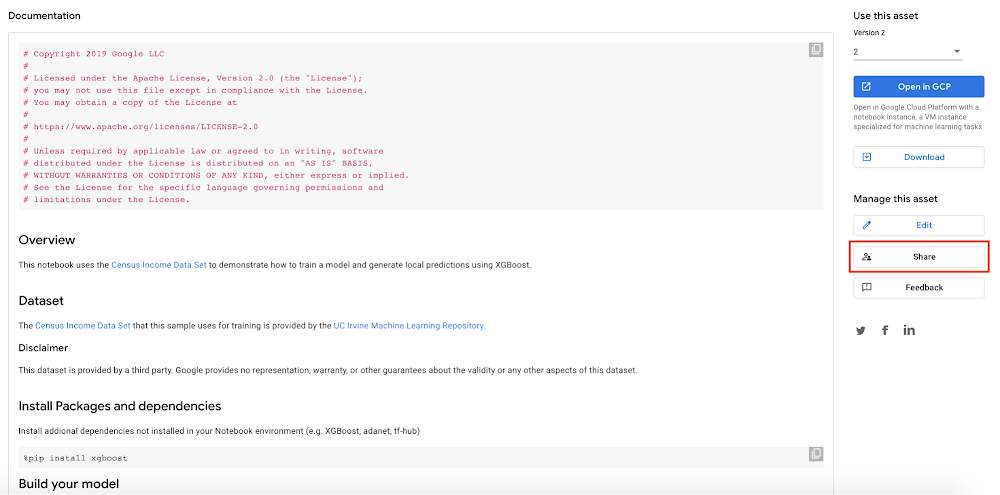 Sharing public assets on AI Hub via social media 
Quickly copy and paste the URL of a public asset shared by Google or a Google partner so you can send it via mail or post it on social media to help others can discover the cutting edge AI you're most interested in.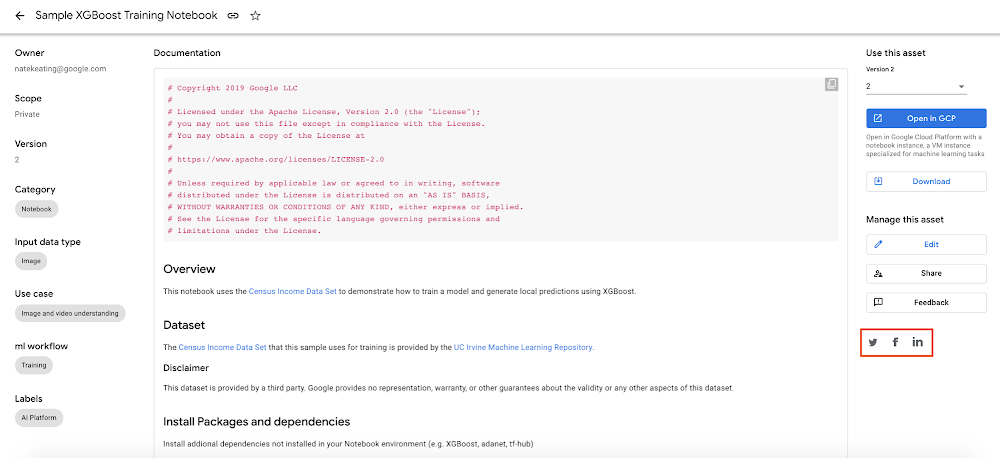 New ML Taxonomy 
To help you find the right ML artifact for your project, you can now label and categorize assets during upload using a comprehensive list of Data Types, ML Techniques, and Use Cases.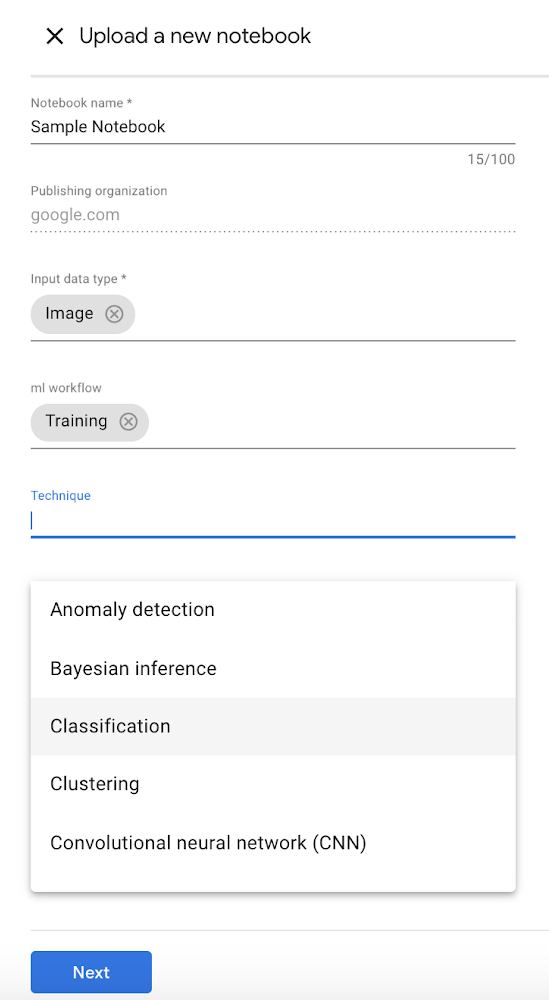 Asset favoriting
As the content on AI Hub grows and more users and organizations share their work, we want you to have more control over finding the assets that are relevant to you. You can now favorite the notebooks, models, and other assets you're most passionate about, regardless of whether they are shared publicly by Google or privately with you by one of your peers.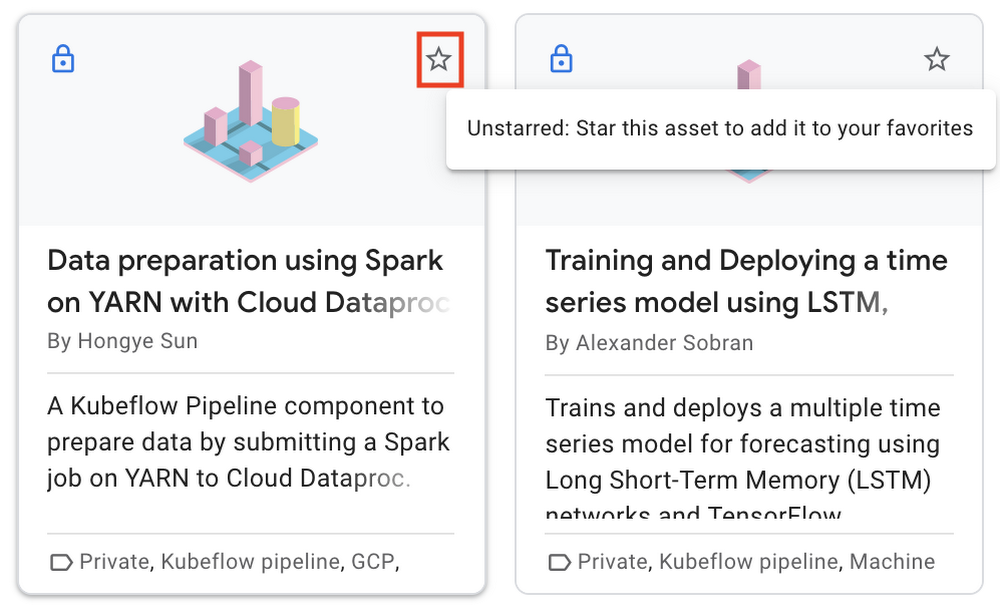 New content
We also have new public content to discover and deploy, including content from partners and more than 70 new, cutting-edge assets from Google for you to build on. Here are some highlights:
Partner Content
New ML assets from Google (20 Technical Guides/Solution Architectures)
Conclusion
Since releasing AI Hub, we've learned a lot about the challenges our first beta customers face bridging gaps and silos in ML projects. These new features are a direct result of these ongoing conversations and aim to make it easier to get started with any ML project by building on the great work of others.
In the coming months we'll continue this work, deepening the integration of AI Hub with existing ML development workflows, on and off GCP, to further improve collaboration within our growing field.
To learn more
Sign up for the AI Hub Newsletter to stay updated on the next exciting enhancements.

Join the AI Hub User Community and ask any questions you have about new features, requirements and content asks.